JSSC CGL Syllabus 2023 – जेएसएससी सीजीएल भर्ती 2023 आवेदन कर रहे महिला पुरुष अभ्यार्थी इस पेज पर नीचे दिए गए नए परीक्षा पाठ्यक्रम की जानकारी अवश्य प्राप्त करें | नए परीक्षा पाठ्यक्रम आप सभी को इस पेज पर नीचे स्टेप बाय स्टेप देखने को मिलेगा | सभी आवेदक आगे होने वाली परीक्षा की तैयारी नई परीक्षा पाठ्यक्रम के अनुसार अभी से शुरू कर दें | ताकि आगे होने वाले परीक्षा में भाग लेकर बहुत अच्छा नंबर प्राप्त कर सकते हैं | जेएसएससी सीजीएल 2023 परीक्षा पाठ्यक्रम का पीडीएफ नीचे दिए गए लिंक पर क्लिक करके डाउनलोड करें | JSSC CGL Exam Syllabus 2023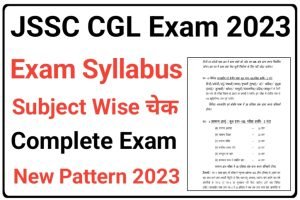 JSSC CGL Recruitment 2023 –

विभाग का नाम
झारखंड कर्मचारी आयोग ने CGL भर्ती
नौकरी का नाम
स्नातक उत्तीर्ण संयुक्त प्रतियोगिता परीक्षा-2023
कुल पद
2017
अनुभव
फ्रेशर एवं अनुभवी
भुगतान
UR/OBC/EWS – Rs-
कार्य श्रेणी
सरकारी नौकरी
अप्लाई मोड
ऑनलाइन
परीक्षा  मोड
ऑनलाइन
नौकरी क्षेत्र
पुरे भारत के लिए
आवेदन तिथि
20/06/2023
आवेदन का अंतिम तिथि
19/07/2023
JSSC CGL Exam Syllabus PDF Download 2023 – Jssc CGL परीक्षा 2023 की तैयारी नए परीक्षा पाठ्यक्रम में दिए गए सब्जेक्ट के अनुसार स्टेप बाय स्टेप करेंगे | जेएसएससी सीजीएल 2023 का परीक्षा विभिन्न सेंटरों पर सफलतापूर्वक कराया जाएगा | जेएसएससी सीजीएल 2023 भर्ती का आवेदन 20 जून से 19 जुलाई 2023 तक चलेगा जेएसएससी सीजीएल सरकारी नौकरी 2023 परीक्षा को पास करना चाहते हैं | तो अभी से तेजी से अपने परीक्षा की तैयारी करें तथा परीक्षा से जुड़ी अधिक से अधिक जानकारी लेकर परीक्षा में भाग लेंगे | जेएसएससी सीजीएल 2023 परीक्षा से जुड़ी जानकारी सभी को नीचे इस पेज पर प्राप्त होगा | JSSC CGL Exam Pattern 2023
Post Details –
आवेदकों की आयु सीमा पदों के अनुसार अलग-अलग रखा गया है | सरकारी नियमों के अनुसार आवेदकों को आयु में छूट भी मिल रही है |
| | | |
| --- | --- | --- |
| Post Name  | No.of Vacancy  | Age Limit  |
| Assistant Branch Officer | 863 | Age 21 Years To 40 Years |
| Junior Secretariat Assistant | 335 | Age 21 Years To 40 Years |
| Labor Enforcement Officer | 182 | Age 21 Years To 40 Years |
| Planning Assistant | 5 | Age 21 Years To 40 Years |
| Block Welfare Officer | 195 | Age 21 Years To 40 Years |
| Block Supply Officer | 252 | Age 21 Years To 40 Years |
| Circle Inspector cum Kanungo | 185 | Age 21 Years To 40 Years |
Salary –
| | |
| --- | --- |
| Post Name  | Salary   |
| Assistant Branch Officer | Pay Matrix Level-7-44,900 1,42,400/- |
| Junior Secretariat Assistant | Pay Matrix Level-2-19,900 – 63,200/- |
| Labor Enforcement Officer | Pay Matrix Level – 6-35,400-1,12,400/- |
| Planning Assistant | Pay Matrix Level – 5-29,200 92,300/- |
| Block Welfare Officer | Pay Matrix Level-6-35,400 1,12,400/- |
| Block Supply Officer | Pay Matrix Level-6-35,400 1,12,400/- |
| Circle Inspector cum Kanungo | Pay Matrix Level-6-35,400 – 1,12,400/- |
Selection Process –
लिखित परीक्षा
दस्तावेज़ सत्यापन
चिकित्सा परीक्षा
| | |
| --- | --- |
| Written Exam Paper | Subject/No. of Question |
| "[Paper 1 (Qualifying)] Time- 2 hour Total Question- 120 Total Marks- 360 Passing %- 30%" | "Hindi-60 ques English- 60 ques" |
| "[Paper 2] Time- 2 hour Total Question- 100 Total Marks- 300 Passing %- 30%" | "जनजातीय एवं क्षेत्रीय भाषा (Total- 100 ques)" |
| "[Paper 3] Time- 2 hour No. of Questions- 150 Total Marks- 450 Passing %- 30%" | "सामान्य ज्ञान (General Knowledge) -150 Ques 1. General Studies- 30 questions 2. General Science- 20 Questions 3. General Math's – 20 questions 4. Reasoning Abilities- 20 questions 5. Computer Knowledge- 20 ques 6. Jharkhand GK – 40 questions" |
Exam Pattern 2023 –
Paper I –
Section
Subject
Number of Questions
Number of Marks
Exam Duration
Paper 1 (Language Knowledge)
Knowledge of Hindi language
60
180
2 Hours
English language knowledge
60
180
Paper II –
| | | | | |
| --- | --- | --- | --- | --- |
| Section | Subject | Number of Questions | Number of Marks | Exam Duration |
| Paper – 2 (Identified Tribal and Regional Languages) | Hindi / English / Urdu / Santhali / Bangla / Mundari (Munda) / Ho / Khadiya / Kudukh(Uraon) / Kurmali / Khortha / Nagpuri / Panchparganiya / Odia / Sanskrit | 100 | 300 | 2 Hours |
Paper – III 
Section
Subject
Number of Questions
Number of Marks
Exam Duration
Paper- 3 (General Knowledge)
General Studies
30
90
2 Hours
General Science
20
60
General Mathematics
20
60
Mental Ability Test
20
60
Knowledge of computer
20
60
Knowledge related to the state of Jharkhand
40
120
JSSC CGL Exam Syllabus 2023 –
Paper – I (Language Knowledge)
Knowledge of the Hindi language
English language knowledge
Paper – II (Identified Tribal and Regional Languages)
Hindi
English
Urdu
Santhali
Bangla
Mundari (Munda)
Ho
Khadiya
Kudukh (Uraon)
Kurmali
Khortha
Nagpuri
Panchparganiya
Odia
Sanskrit
Paper – III
 Check the general knowledge of the candidate and his ability in relation to their application in the society. Knowledge of current events and day-to-day happenings with minute observation and scientific approach towards them, which is expected of any educated person. In this, as many questions as possible can be asked specifically in relation to Jharkhand, India and neighboring countries. Current Affairs, Scientific Progress, National/International Awards, Indian Languages, Books, Scripts, Capital, Currency, Sports Players, Important Events. History of India, Culture, Geography, Environment, Economic Scenario, Freedom Movement, Salient Features of Indian Agriculture and Natural Resources and Constitution and Polity of India, Political System of the Country, Panchayati Raj, Community Development, Five Year Plan. General information about the geographical location and political situation of Jharkhand state.

General Science: In the question of General Science, there will be questions related to general understanding and understanding of science based on day-to-day observation and experience. As would be expected from a well educated person who has not made a special study of any scientific subject.

General Mathematics: This subject will generally contain questions related to arithmetic, primary algebraic geometry, general trigonometry, area geometry. Usually it will contain questions of Matric/10th class level.

Mental Ability Test: There will be questions of both verbal and non-verbal type. In this component, as many questions as possible can be asked related to – Analogy, Similarity and Difference, Space Visualization, Problem Solving, Analysis, Visual Memory, Discrimination, Observation, Relationship Concept, Arithmetical Reasoning, Arithmetic Number Series and Coding and Code Explanation etc.

Knowledge of computer: In this, various equipments of computer, M.S. Windows Operating System, MS Questions related to the knowledge of office and internet operation method can be asked

Knowledge related to the state of Jharkhand: Jharkhand state's geography, history, civilization, culture, language-literature, place, mines, minerals, industries, Jharkhand's contribution in the national movement, development plans, sports-players, personalities, civic achievements, subjects of national and international importance, etc.
Important Dates –
| | |
| --- | --- |
| Events | Dates |
| जेएसएससी सीजीएल अधिसूचना 2023 रिलीज की तारीख | 06.06.2023 |
| ऑनलाइन आवेदन से शुरू होता है | 20.06.2023 |
| आवेदन करने की अंतिम तिथि | 19.07.2023 |
| आवेदन शुल्क का भुगतान करने की अंतिम तिथि | 19.07.2023 |
| जेएसएससी सीजीएल परीक्षा तिथि 2023 | Update Soon |
How To Apply –
आवेदन के पात्र उम्मीदवार सबसे पहले https://www.jssc.nic.in/  के आधिकारिक वेबसाइट पर विजिट करें | होम पेज पर दी गई नई अधिसूचना को खोजें और उसे डाउनलोड करें |
अधिसूचना की पूरी जानकारी लेने के बाद योग्य उम्मीदवार JSSC CGL पद पर अपनी योग्यता के अनुसार फॉर्म का ऑनलाइन आवेदन करें |
ऑनलाइन आवेदन करते समय अपने सभी आवश्यक जानकारी स्टेप बाय स्टेप अच्छे से दर्ज करें |
आवेदन के दौरान सभी आवेदक अपने आवेदन शुल्क का भुगतान करेंगे |
आवेदन पत्र पूरा हो जाने पर किए गए आवेदन पत्र का प्रिंट आउट निकाल कर अपने भविष्य के लिए रख ले |
जरुरी लिंक :-