BCAS Recruitment 2023 – नागरिक उड्डयन सुरक्षा ब्यूरो ने संयुक्त निदेशक, क्षेत्रीय निदेशक, उप निदेशक, सहायक निदेशक आदि की पद पर आवेदन नोटिफिकेशन जारी किया है | 160 पदों पर आई नौकरी का आवेदन आप सभी 17 दिसंबर 2023 तक पूरा कर सकते हैं आवेदन ऑफ़लाइन माध्यम से किया जा रहा है | नौकरी का स्थान नई दिल्ली रखा गया है रोजगार समाचार पत्र के माध्यम से इस नौकरी का नोटिफिकेशन सबसे पहले जारी हुआ है | notification aap sab sabhi ko ministry of civil avention के वेबसाईट पर मिल जाएगा | नोटिफिकेशन पीडीएफ आप सभी नीचे दिए गए लिंक पर क्लिक करके प्राप्त करें |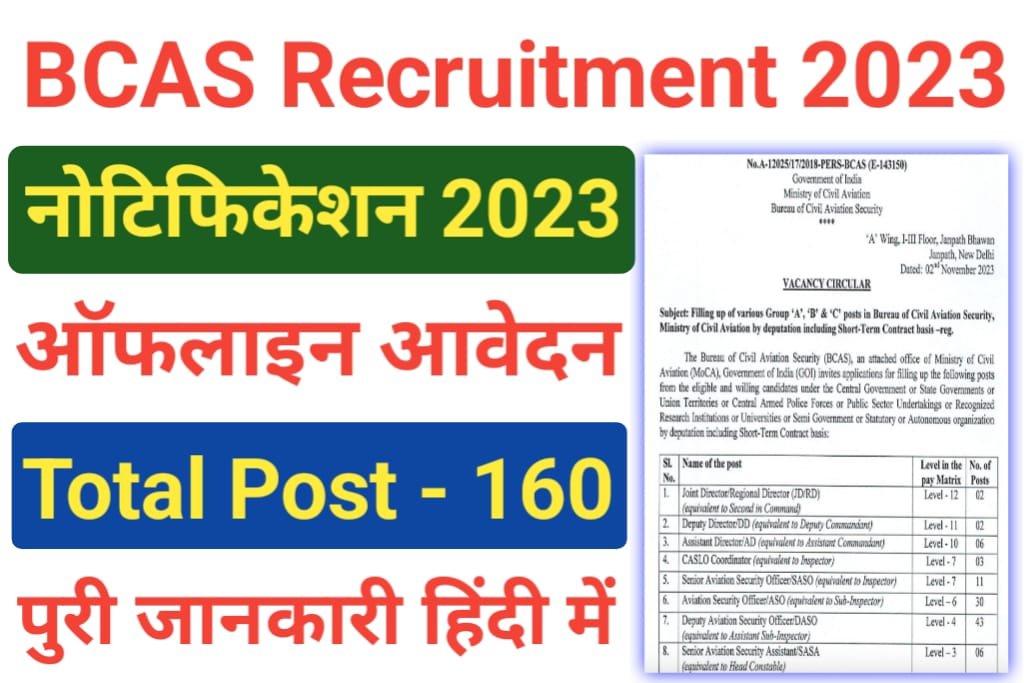 Bureau of Civil Aviation Security Recruitment 2023 –
| | |
| --- | --- |
| आर्टिकल का नाम | नागरिक उड्डयन सुरक्षा ब्यूरो |
| कार्य का प्रकार | नौकरी |
| पद के नाम | संयुक्त निदेशक, क्षेत्रीय निदेशक, उप निदेशक, सहायक निदेशक आदि |
| कुल पद | 160 |
| आवेदन प्रकिया | ऑफलाइन |
| आवेदन तिथि | 02/11/2023 |
| आवेदन की अंतिम तिथि | 17/12/2023 |
| ऑफिसियल नोटिस | bcasindia.gov.in |
Post Details –
| | |
| --- | --- |
| Post Name | No.of Vacancies |
| Joint Director/ Regional Director | 2 |
| Deputy Director | 2 |
| Assistant Director | 6 |
| CASLO Coordinator | 3 |
| Senior Aviation Security Officer | 11 |
| Aviation Security Officer | 30 |
| Deputy Aviation Security Officer | 43 |
| Senior Aviation Security Assistant | 6 |
| Aviation Security Assistant | 24 |
| Staff Car Driver (Grade 1) | 7 |
| Staff Car Driver (Grade II) | 7 |
| Staff Car Driver (Ordinary Grade) | 3 |
| Dispatch Rider | 16 |
Age Limit –
Maximum Age Limit – 56 Years
Education Qualification –
किसी मान्यता प्राप्त विश्वविद्यालय या संस्थान से स्नातक की डिग्री होनी चाहिए |
How To Apply Bureau of Civil Aviation Security Bharti 2023 –
The candidates selected for deputation to any of the above post will be governed by the terms and conditions of deputation laid down in the DOPT OM No. 6/8/2009-Estt. (Pay-II) dated 17.06.2010, as amended from time to time.
The candidates will have option to either draw pay in the scale of pay applicable to them in their parent organization plus deputation (duty) allowance or have their pay fixed in the scale of pay applicable to deputation post.
The candidates selected on these posts may be posted at BCAS Headquarters at New Delhi and/or at any of its Regional Offices (ROS). The existing Twenty (20) ROS, however, located at Ahmadabad, Amritsar, Bengaluru, Bhopal, Bhubaneswar, Chennai, Cochin, Dehradun, Delhi, Guwahati, Hyderabad, Imphal, Jaipur, Kolkata, Lucknow, Mumbai, Patna, Raipur, Ranchi and Srinagar.
The Bio-data (in triplicate), in the prescribed format (attached at Annexure), countersigned by the Competent Authority, of suitable and willing candidates may be forwarded along with the documents mentioned in Para 7 below, within 45 days from the date of publication of this circular in the 'Employment News' to Deputy Director (Pers.), Bureau of Civil Aviation Security, 'A' Wing, I-III Floor, Janpath Bhawan, Janpath, New Delhi.
जरुरी लिंक :-