IIT Dhanbad Recruitment 2023 – भारतीय प्रौद्योगिकी संस्थान ने धनबाद के लिए 71 पदों पर ऑनलाइन आवेदन नोटिफिकेशन घोषित किया है | असिस्टेंट प्रोफेसर तथा एसोसिएट प्रोफेसर एवं प्रोफेसर के पद पर ऑनलाइन आवेदन करने वाले आवेदक को का चयन केवल इंटरव्यू के आधार पर किया जाएगा | कैटेगरी के अनुसार हाल में आई नई नौकरी का आवेदन केवल योग्य उम्मीदवार करेंगे। आईआईटी आईएसएम धनबाद नौकरी से जुड़ी आप सभी को पूरी जानकारी देखने को मिलेगा | आईआईटी आईएसएम धनबाद नौकरी का ऑनलाइन आवेदन नीचे दिए गए लिंक पर क्लिक करके करें | IIT Recruitment 2023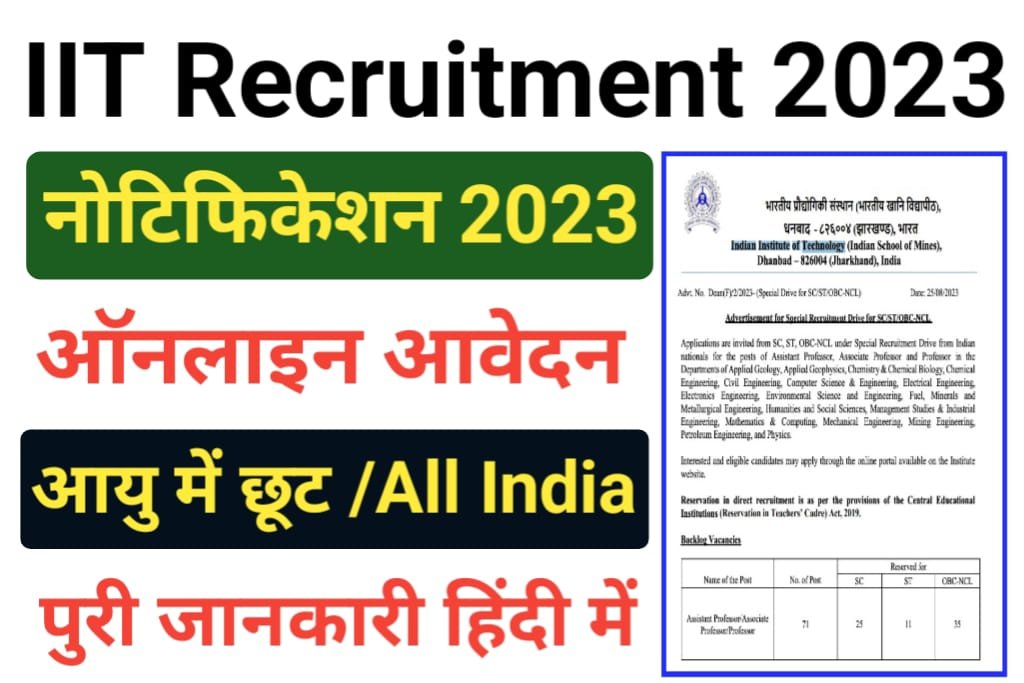 Indian Institute of Technology Recruitment 2023 –
| | |
| --- | --- |
| विभाग | भारतीय प्रौद्योगिकी संस्थान |
| पद नाम | असिस्टेंट प्रोफेसर तथा एसोसिएट प्रोफेसर एवं प्रोफेसर |
| कुल पद | 71 |
| भरने की प्रकृति | ऑनलाइन |
| आवेदन तिथि | 25/08/2023 |
| अंतिम की आवेदन तिथि | 27/09/2023 |
| अधिकारिक वेबसाइट | iitism.ac.in |
भारतीय प्रौद्योगिकी संस्थान (भारतीय खनि विद्यापीठ), धनबाद में लंबे समय के बाद बड़े पदों पर कार्य करने का अच्छा और बड़ा मौका योग्य उम्मीदवारों को मिल रहा है | ऐसे उम्मीदवार जो भारतीय प्रौद्योगिकी संस्थान धनबाद में नौकरी की तलाश कर रहे थे | नौकरी की तैयारी कर रहे थे तो आप सभी के लिए बड़े पदों पर भर्ती आई है | जिसका आवेदन आप सभी घर बैठ कर सकते हैं | Indian Institute of Technology Recruitment 2023 भर्ती से जुड़ी आगे भी आप सभी को सही और सटीक जानकारी इस वेबसाइट के माध्यम से सबसे पहले प्राप्त होगी | IIT Online Form 2023
Category Wise Post Details –
| | |
| --- | --- |
| Name Of Category | No.of Vacancy |
| SC | 25 |
| ST | 11 |
| OBC-NCL | 35 |
| Total Post | 71 |
Eligibilities –
Ph.D. with first class or equivalent (in terms of grades, etc.) at the preceding degree in the appropriate branch, with a very good academic record throughout. Candidate should have good CPI/CGPA/Percentage in Ph.D. course work where ever applicable.
Salary –
| | |
| --- | --- |
| Assistant Professor | Grade I: Pay Level 12 (₹101500-167400) with minimum Pay of ₹ 101500/- After completion of 3 years of service as Assistant Professor in Pay Level 12, the candidates will be considered for movement to Pay Level 13A1 (₹131400- 204700). |
| Associate Professor | 7th CPC Pay Level 13A2, Minimum Pay: ₹139600/- |
| Professor | 7th CPC Pay Level 14A, Minimum Pay: ₹159100/- |
Selection Process –
Interview
How To Apply –
The candidates have to apply through the online portal available on the Institute website
(www.iitism.ac.in).
For any clarification, please contact at the following email ID: [email protected]
For Specialization go to the link Department Wise Specialization.
जरुरी लिंक :-