Indian Navy Sports Quota Bharti 2023 – इंडियन नेवी स्पोर्ट्स कोटा में योग्य उम्मीदवारों के लिए नई नौकरी का आवेदन शुरू किया गया है | आवेदन ऑफ़लाइन माध्यम से किया जा रहा है | भारतीय नौसेना में Petty Officer/ Chief Petty Officer (Sports Quota) के पद पर आवेदन किया जा रहा है | आप सभी नीचे दिए गए लिंक पर क्लिक करके नई नौकरी का नोटिफिकेशन पीडीएफ डाउनलोड करें | नोटिफिकेशन की जांच करने के बाद योग्य उम्मीदवार अपने फार्म का आवेदन ऑफ़लाइन माध्यम से नीचे दिए गए आर्टिकल को पढ़कर करेंगे | Indian Navy Sports Quota Recruitment 2023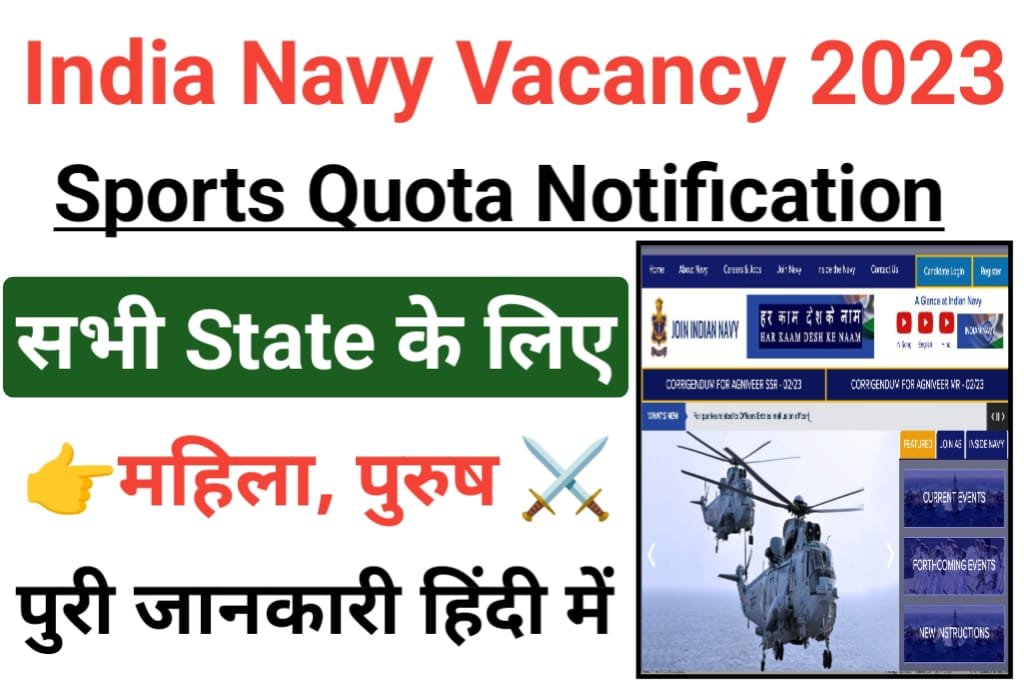 Indian Navy Vacancy 2023 –
| | |
| --- | --- |
| विभाग | इंडियन नेवी स्पोर्ट्स कोटा |
| पद नाम | Petty Officer/ Chief Petty Officer (Sports Quota) |
| कुल पद | – |
| भरने की प्रकृति | ऑफलाइन |
| आवेदन तिथि | /09/2023 |
| अंतिम की आवेदन तिथि | 25/09/2023 |
| अधिकारिक वेबसाइट | joinindiannavy.gov.in |
इंडियन नेवी स्पोर्ट्स कोटा नई नौकरी का आवेदन कर रहे सभी आवेदक की योग्यता ,सैलरी ,चयन प्रक्रिया, आवेदन प्रक्रिया ,इस पेज पर नीचे दिया गया है | Indian Navy sports quota नौकरी का आवेदन पीडीएफ आप सभी नीचे दिए गए लिंक पर क्लिक करके डाउनलोड करें | आवेदन पीडीएफ डाउनलोड हो जाने के बाद आवेदन पीएफ का प्रिंट आउट निकलवा ले उसके बाद अपने फार्म का आवेदन ऑफ़लाइन माध्यम से पूरा करें और नोटिफिकेशन में दिए गए उचित पते पर उचित माध्यम से अपना आवेदन पत्र भेज दें |
Age Limit –
Candidates should have been born between 01 Nov 1998 to 30 Apr 2006 (Both dates inclusive).
Minimum Age – 17 Years 6 Month
Maximum Age – 25 Years
Selection Process –
खेल परीक्षण
दस्तावेज़ सत्यापन
चिकित्सा परीक्षण
Eligibilities –
10+2 qualified in any stream or Equivalent examination.
How To Apply Navy Sports Quota Recruitment 2023 –
Application Form. The application is to be submitted on A4 size paper only as per the given format.
Only one application form is to be forwarded. Candidates who send more than one application for the same entry will be disqualified. Forms can also be downloaded from Internet: www.joinindiannavy.gov.in
जरुरी लिंक :-