NIMS Recruitment 2023 – निज़ाम इंस्टीट्यूट ऑफ मेडिकल साइंसेज, हैदराबाद नई नौकरी का नोटिफिकेशन आप सभी नीचे दिए गए लिंक पर क्लिक करके प्राप्त करें कल 65 पदों पर सहायक प्रोफेसर के पद पर आप सभी आवेदन कर सकते हैं | आवेदन का अंतिम तिथि 30 सितंबर 2023 रखा गया है | नोटिफिकेशन की जांच करने के बाद आप सभी ऑफलाइन माध्यम से अपना आवेदन पूरा करेंगे | ऑफलाइन आवेदन पत्र आप सभी को नोटिफिकेशन में प्राप्त होगा | नोटिफिकेशन में दिए गए आवेदन पत्र का प्रिंट आउट निकाल कर आवेदन करें | NIMS Recruitment 2023 Notification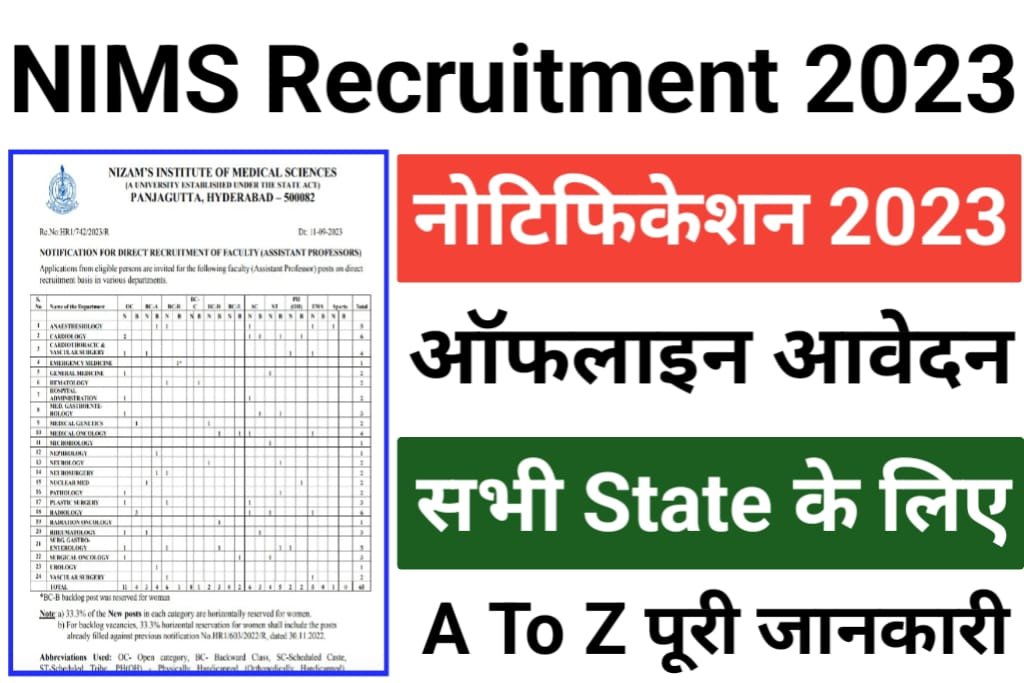 Nizam's Institute Of Medical Sciences Vacancy 2023 –
| | |
| --- | --- |
| विभाग | निज़ाम इंस्टीट्यूट ऑफ मेडिकल साइंसेज, हैदराबाद |
| पद नाम | सहायक प्रोफेसर |
| कुल पद | 65 |
| भरने की प्रकृति | ऑफलाइन |
| आवेदन तिथि | 11/09/2023 |
| अंतिम की आवेदन तिथि | 30/09/2023 |
| अधिकारिक वेबसाइट | nims.edu.in |
Post Details –
| | |
| --- | --- |
| Post Name | No.of Vacancy |
| Assistant Professor | 65 |
Salary –
Level 12 in the Pay Matrix (Entry Basic Pay of Rs.1,01,500/- in the pay scale of 101500-167400) plus NPA and other usual allowances. After three years, Assistant Professors will move to Level 13 with Minimum Pay of Rs.1,23,100/- (123100-215900) of the Pay Matrix.
Eligibilities –
At the time of verification of certificates, if it is noticed that any applicant who possesses a qualification other than requisite qualification and claims that said qualification is equivalent to the requisite qualification, the matter shall be referred to an 'Expert Committee' constituted by the Director, NIMS and the Director will take a decision based on the report of the 'Expert Committee'.
Application Fees –
For SC & ST applicants – Rs.2000/-
For others : Rs. 3000/-
Age Limit –
Assistant Professor: Not exceeding 50 (Fifty) years as on the last date of the receipt of the
application i.e. 30-09-2023.
Selection Process –
साक्षात्कार
दस्तावेज सत्यापन
जरुरी लिंक :-